A gradual increase in the volume of sludge accumulated in Phosphoric acid tanks and lagoons which are used for storage of phosphoric acid results in depleted storage volume for acid as well as increase in solids in pumpable acid. Sureflo has introduced robotic systems that are designed to remove the acidic sludge from the tanks and lagoons without any MAN ENTRY. Sureflo has a submersible robot for phosphoric acid tanks and a floating robot for phosphoric acid lagoons.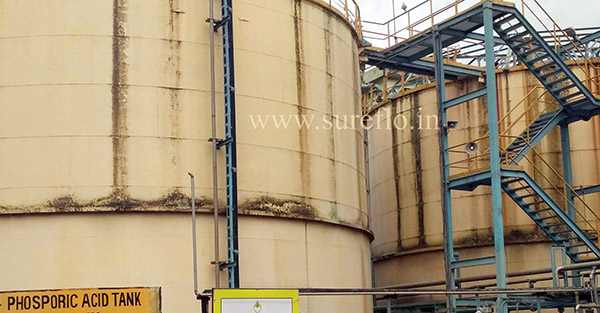 Phosphoric Acid Tank Robotic Cleaning
Robotic Phosphoric Acid Sludge Treatment Process
Cleaning of PA Tanks using Sureflo submersible "MINI" robots:
Sureflo "MINI" Robots designed for this job are capable of entering a 600 mm or bigger manhole and removing the sludge. Advantage of having Sureflo robotic sludge management systems are that the sludge removed using Sureflo robots can be treated in Sureflo mobile treatment system to obtain dry cake and recycle the acid back to the plant at the same concentration as it was in the tank.
Cleaning of phosphoric acid lagoons using Sureflo Floating Robots:
Sureflo Floating Robots – FR series are designed to handle PA sludge removal and recycling for sludge accumulated in lagoons. These robots are operated using a remote control and come with pumping flow rate of 50 m3/hr to 300 m3/hr. Sludge once pumped out of the lagoon can be treated in the mobile treatment system to recycle the acid and obtain dry cake for disposal.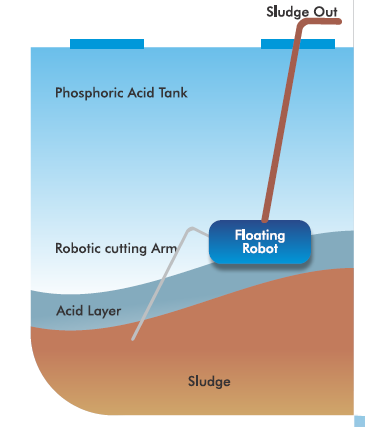 Robotic Phosphoric Tank sludge removal & dewatering