Power plants have an extensive recirculation system of cooling water consisting of large cooling towers in the form of Natural draft cooling towers to cross current and counter current type cooling towers, which are further connected by open air channels that leads to the forebay and pumping systems. Silt / mud deposition in forebay causes severe operation problems in the cooling system which lead to frequent choke ups and pump damage. It is required for the plant manager to clean the forebay time and again to reduce the occurrence of such operational issues due to accumulation of sludge at the bottom of forebay.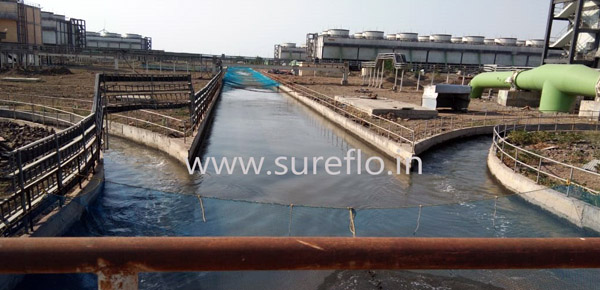 Robotic Sludge cleaning in forebay
Conventional method of forebay cleaning would require shutdown of all the cooling towers that are linked to the channel-forebay system which leads to heavy production losses or having a DIVER enter the forebay under running condition for removal of the sludge. A Man entry for such an application is not only a highly risky operation as huge pumping systems are installed in the forebay area but also an inefficient operation as the DIVER has limitations to remove the deposited sludge at the bottom.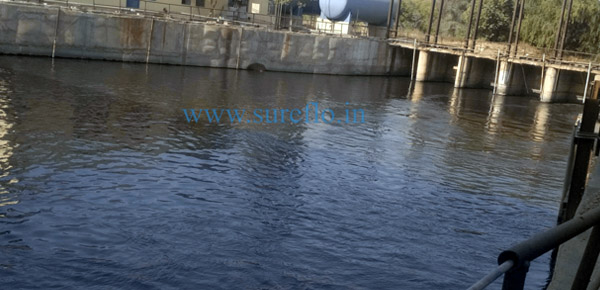 Robotic cleaning of Forebay sludge
Sureflo offers state of the art ONLINE ROBOTIC CLEANING SYSTEMS that follow a NO SHUTDOWN & a NO MAN ENTRY concept to remove the sludge from the bottom of the basin and recycle the water back to the basin. Robot is simply lowered into the forebay bottom and using a remote control the robot is navigated to entire / specific areas of the basin for sludge removal and recycling. The same services can be extended to open air channels as well as cooling tower basins for removal of accumulated sludge under online conditions.