Sureflo Techcon builds and operates unique robotic machines which removes sludge and sediments from closed, complex industrial structures as Oily basins, cooling towers, holding pools, lagoons, tanks and water bodies.The accumulation of sludge or sediments in these facilities reduces operational efficiency and frequently contains toxic compounds. Handling these hazardous materials in structures like cooling towers or storage tanks imposes serious safety and long-term health risks to workers. The costs of shut-down time required for sludge removal and/or storage in tank or lagoon farms where land values are at a premium add to the problem.
The application of Robotic Cleaning in petrochemical, Refineries, Metal and Mining industries.
Online Robotic Sludge Removal Systems
Thanks to its hydraulic controls the unit can operate fully submerged underwater or inside flammable/explosive atmospheres. This allows us to remove sludge from Refineries, Petrochemical plants, cooling towers and oil separators as they operate.
The robot is equipped with devices which enable it to work in almost any space eliminating the cost of maintenance shutdowns. The unit is rigidly built to provide powerful operation under harsh conditions. Unique non-electric proximity sensors help the robot navigate around support columns and other architectural features even when the operator is unable to see it. The special propulsion unit and powerful sludge pump adapt to variations in viscosity and insure speedy, efficient and safe completion of the task.
Removal of sludge is often hazardous from lagoons or industrial facilities.

The operation of Robot does not require the costly shutdown of the facility, a time and money saving factor.

Remote control unit is safe from any operational danger. The sludge can be treated and processed in a dry cake form for easy disposal and the water is recycled back to the source hence " No Water Losses"
ONLINE REMOVAL OF SLUDGE FROM
Cooling Tower Basins.

Ponds, Lakes and Rivers.

Effluent Tank Cleaning.

Sewage Tank Cleaning.

Oily Sludge Basin Cleaning.
DEWATERING & LIQUID SEPARATION PROCESS: – (OPTIONAL)
The removed sludge can further be converted into dry cake by Sureflo using filter press, decanter or screw press as per client's retirements.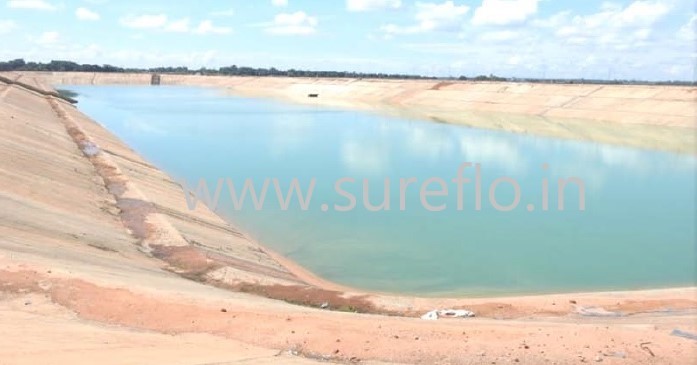 Raw Water Reservoir Cleaning by Robots