The Scroll Bowl Decanter Centrifuges have been in the industry for over a 100 years and have wide applications like clarification, thickening, classification, washing and dewatering. Sureflo decanters are designed specifically for dewatering of sludge applications and for obtaining clarified centrate from the discharge. Variation in differential speeds, dosing chemicals and pond depths enable us to optimize the cake dryness, cake outlet as well as the centrate quality from the decanter. Sureflo decanters have been specifically designed for refinery sludge and sewage sludge. However, our team possesses the expertise to design decanter centrifuges for various other applications as well.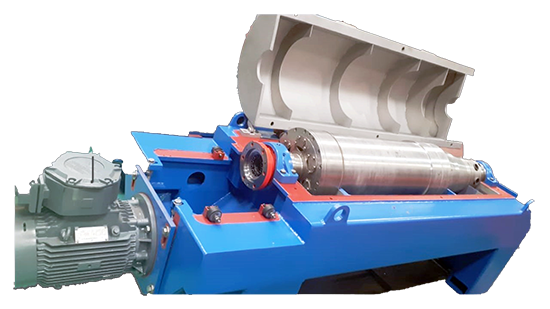 The Main Sections of Decanter Centrifuges
The inlet zone accelerates the feed slurry up to the speed of the bowl. A properly engineered inlet zone keeps any degradation of the feed solids to a minimum as well as avoiding disturbance of the sediment in the bowl. A number of feed zone specifications are available for decanter centrifuges, each designed to ensure maximum performance in conjunction with a specific process.
The key to good decanter performance lies in the efficient, effective scrolling of the sedimented solids. The design of the screw conveyor is therefore crucial. You must have the expertise needed to match the demands involved in specific industrial processes with specific configurations of flight pitch, lead angle and differential speed, in order to secure the best possible results.
Depending on the application, the consistency of the separated solids can vary from a dry powder to a paste. The configuration of the discharge zone is therefore chosen to enable such "cakes" to exit as effectively as possible. Innovative designs enable erosion-prone components used in the solids discharge zone to be replaced on site at low cost and with a minimum of disturbance to production.
In a two-phase decanter, the liquid level is regulated by dam plates. In a three-phase centrifuge when operating in a three-phase mode, each phase discharges over a set of dam plates into separate baffled compartments in the casing. In certain applications, a centripetal pump discharge that utilizes the pressure head developed by the rotating liquid phase is used to pump the liquid from the decanter.